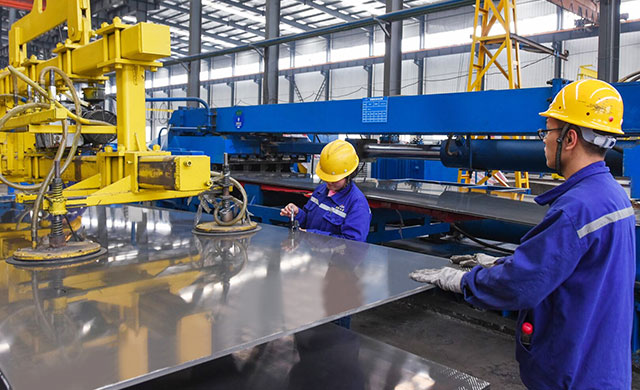 We are Henan Climb Aluminum Co., Ltd. is a manufacturer of aluminum alloy casting and processing. We have advanced processing technology and production equipment.We can produce most of 1, 3, 5, 6 and 8 series aluminium alloy, especially 5 series alloy. Our main products are aluminum sheet, plate, coil, checker plate, strip and foil etc.
These aluminum products are mainly exported to Europe, Southeast Asia, Australia, North America, South America, Middle East and the Africa market and they are well received!

Aluminium Alloy Sheet / Plate Products
5000 Series Aluminum Sheets / Plates
5 series aluminum alloy belongs to the commonly used alloy aluminum series. The main element is magnesium, and the magnesium content is between 3-5%. Also known as aluminum magnesium alloy. The main features are low density, high tensile strength and high elongation.
The weight of Al – Mg alloy is lower than other series in the same area It is commonly used in aviation and shipping, and is also widely used in conventional industry. 5 series aluminum alloy is a deformed aluminum alloy with Mg as the main alloy element, so it is called Mg-Al alloy.

6000 Series Aluminum Sheets / Plates
6 series aluminum alloy is an aluminum alloy with magnesium and silicon as the main alloy elements and Mg2Si phase as the strengthening phase, which can be strengthened by heat treatment. The alloy has the advantages of medium strength, high corrosion resistance, no stress corrosion cracking tendency, good welding performance, unchanged corrosion performance in the welding area, good formability and process performance.

3000 Series Aluminum Sheets / Plates
3 series Aluminum Alloy is also called Al-Mn alloy aluminum plate. The content of manganese element is 1-1.5%. It is a widely used antirust aluminum alloy series. The strength of the 3-series aluminum alloy is higher than that of pure aluminum alloy. Although it cannot be strengthened by heat treatment, it has good plasticity after cold processing (rolling by supercooled rolling mill) and annealing process treatment. Because of its good corrosion resistance and welding performance, it can be used in many industries, such as building decoration industry, Electronics manufacturing, automobile manufacturing, etc.

1000 Series Aluminum Sheets / Plates / Coils
1 series aluminum alloy is also called industrial pure aluminum, high-purity aluminum The aluminum content is above 99%. Good conductivity, good corrosion resistance, good welding performance, low strength, and can not be strengthened by heat treatment It has good elongation and tensile strength, good plasticity, corrosion resistance, conductivity and thermal conductivity.