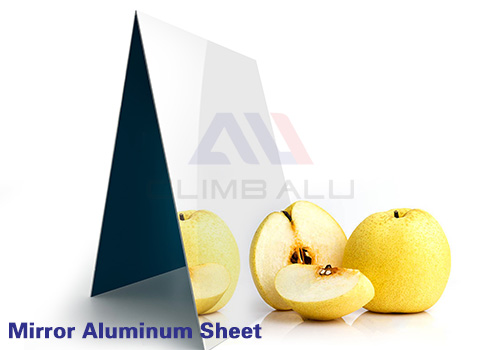 Mirror Aluminium Sheet
Aluminium Alloy: 1050, 1060, 1070, 1085, 3003, 5182, 5052

Materiral Temper: O, H12, H14, H18, H19

Thickness: 0.15-3.5mm
Reflectivity: 70% – 95%
---
Email: sales@aluminium-sheets.com
Tel & WhatsApp: +86 17719845538
Mirror aluminum sheet is a variety of aluminum sheet that has the same strength and corrosion resistance as the normal aluminium sheet, but it has a shiny surface. Its appearance is like mirror when it reflects light, so people call it "mirror aluminum".
Mirror Aluminum Sheet lighting reflector and lamp decoration, solar heat collection reflective material, interior architectural decoration, Exterior wall decoration, household appliance panels, electronic product casings, furniture kitchens, interior and exterior decoration of automobiles, Signs, signs, bags, jewelry boxes and other fields.

How to Select Mirror Aluminum Sheet?
Aluminum mirror sheets are mainly divided into anodized aluminium sheets and non-anodized aluminum sheets according to their surface treatment method. Anodized aluminum is electrodeposited on the surface of the raw material by using electrolyte solution containing sulfuric acid, nitric acid and other electrolytes. It has good corrosion resistance and bright mirror surface. Non-anodized aluminum is not electrodeposited on the surface of the raw material, but coated with a layer of anodic coating after the sheet is hot pressed or extruded. Its surface is dark, but it also has good corrosion resistance and high strength.
| | | | |
| --- | --- | --- | --- |
| Alloy | Materiral Temper | Thickness | Reflectivity |
| 1050, 1060, 1070, 1085, 3003, 5182, 5052 | O, H12, H14, H18, H19 | 0.15-3.5mm | 70% – 95% |
The mirror aluminium sheet produced by Climb ALU. has performed well in the world. 1050 alloy mirror aluminium sheet has a good sales volume in Europe. We have long-term cooperative customers in the UK, Germany, France, Belgium, Austria, Netherlands, Norway, Italy and other countries. Especially in Germany and the UK market, we have stable cooperative relations with some lighting manufacturers.
The 3003 mirror aluminium sheet we produce sells very well in Asia. There are our cooperative companies in South Korea, Singapore, Malaysia and other countries.
5182 5052 mirror aluminium sheet has very good sales in North America and South America.
Identification Method Of Mirror Aluminum Sheet
1. For a good-quality mirror aluminium sheet, after tearing off the protective film, touch the mirror with your fingers, the sweat stains on your fingers will remain on the mirror, but after wiping with a dry cloth or paper towel, the fingerprints will be wiped clean without leaving any traces . The mirror aluminum sheet with poor quality is different, and the fingerprints left behind will become more and more dirty with rubbing, and the effect of the mirror surface cannot be restored.
2. Put a small mirror aluminum sheet to the ear and bend it quickly. If you can hear a slight tearing sound, it proves that it is a good quality mirror aluminum sheet, otherwise it is a poor ordinary polished sheet.

Hi, I'm Bella. I believe you have seen many websites of aluminum merchants, but you haven't chosen yet. I sincerely suggest that you choose to purchase our products. Not only because I work here.
We are different from ordinary trading companies but a professional aluminum plate manufacturer with a production base. You are welcome to visit at any time! And we are a caring team, I believe that cooperation with us will make you satisfied!
Email: sales@aluminium-sheets.com
Mobile/WhatsApp: +86 17719845538
Leave Your Requirement on Climb aluminum alloy products! We Will Reply You In 12 Hours!