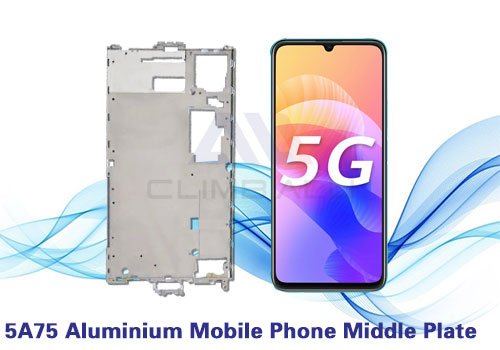 5A75 Aluminium Mobile Phone Middle Plate
Die casting height: 3mm

Die casting Width: 29mm

Die Casting Length: 67mm
Support customization
---
Email: sales@aluminium-sheets.com
Tel & WhatsApp: +86 17719845538
Contact us for 5A75 Aluminium Mobile Phone Middle Plate!

With the development of communication technology, the popularity of smart phones has become more and more widespread, and the demand has greatly increased. Smartphones generally consist of a screen, a motherboard, a mobile phone holder and a battery, while the middle plate on the mobile phone holder is usually made of aluminum alloy material by die casting, because the aluminum alloy material flows very well through the mold cavity in the molten state. , Therefore, the die-cast aluminum alloy medium plate has a high yield rate.
The mobile phone middle plate is an important part of smart phone. The requirements for structure, strength and weight are relatively high, which determines the overall quality of mobile phone. Therefore, the quality requirements for the middle plate are higher than other accessories. Mobile phone middle plate is a kind of die cast alloy mobile phone inner plate, including side, middle plate body, etc.

Climb Aluminum has the ability to produce and process mobile phone midboards. This year (2022), we established a strategic partnership with Huawei, China's largest mobile phone manufacturer, and began to produce the latest model of Huawei's mobile phone middle plate.
| | |
| --- | --- |
| Material | Aluminum alloy |
| Raw material model | 5A75 |
| Material process |  aluminum alloy die-casting |
| Highest accuracy |  local tolerance 0.01mm |
| Appearance process |  batching, machining, electroplating |
| Whether to accept processing customization |  yes |
| Number of parting surfaces of die casting mold |  multiple parting surfaces |
| Die-casting mold cavity number |  multi-cavity mold |
| Die-casting mold installation method |  semi-fixed die-casting mold |
| Main processing equipment |  Die-casting machine Punching machine CNC polishing machine Drilling machine Tapping machine |
| Process flow |  Die-casting → batching → electroplating → salt spray test → full inspection |
| Quality system |  ISO9001 |
| Die casting height |  3mm |
| Die casting length |  67mm |
| Die casting width |  29mm |
| Die casting weight |  43.7g |
| Used for products |  Smartphone mid-board |

Hi, I'm Bella. I believe you have seen many websites of aluminum merchants, but you haven't chosen yet. I sincerely suggest that you choose to purchase our products. Not only because I work here.
We are different from ordinary trading companies but a professional aluminum plate manufacturer with a production base. You are welcome to visit at any time! And we are a caring team, I believe that cooperation with us will make you satisfied!
Email: sales@aluminium-sheets.com
Mobile/WhatsApp: +86 17719845538
Leave Your Requirement on Climb aluminum alloy products! We Will Reply You In 12 Hours!