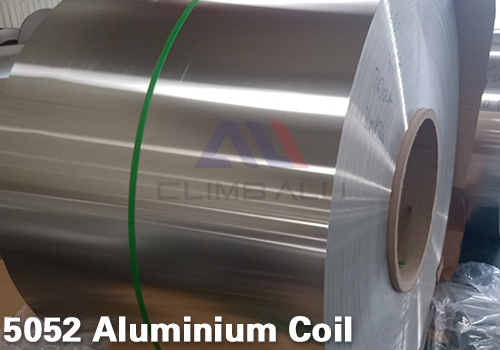 5052 Aluminium Coil
Thickness: 0.5mm-170mm

Width: Under 2250mm

Length: Under 11000mm(11m) or by coil
Standard: ASTM, B209, JIS H4000-2006,GB/T2040-2012,etc
---
Email: sales@aluminium-sheets.com
Tel & WhatsApp: +86 17719845538
Contact us for free 5052 aluminum alloy samples!

Introduction
5052 Aluminium Coil Introduction
5052 aluminum alloy is a popular and widely used aluminum alloy that is known for its excellent strength, formability, and corrosion resistance. It belongs to the 5000 series of aluminum alloys, which are alloys that are primarily composed of magnesium.  It is available in a range of thicknesses and widths, and it can be supplied in both sheet and coil form. It is also available in a variety of finishes, such as mill finish, brushed, and embossed.
5052 Aluminum Alloy Chemical Composition
| | | | | | | | | | | |
| --- | --- | --- | --- | --- | --- | --- | --- | --- | --- | --- |
| Elements | Si | Fe | Cu | Mn | Mg | Cr | Zn | Ti | Others | Al |
| Content | 0.25 | 0.4 | 0.1 | 0.1 | 2.2-2.8 | 0.15-0.35 | 0.1 | – | 0.15 | Remain |
Typical Mechanical Properties Of 5052 Aluminum Coil
Tensile Strength: 210-260 MPa (30-38 ksi)
Yield Strength: 83-160 MPa (12-23 ksi)
Elongation: 12-25%
Modulus of Elasticity: 69 GPa (10,000 ksi)
Hardness: 60-75
Applications Of 5052 Aluminium Alloy
Marine and boat building: Widely used in the construction of boats and ships due to its excellent corrosion resistance and strength. It is commonly used for boat hulls, decks, and superstructures.
Automotive industry: Used in various automotive applications, including body panels, fuel tanks, and chassis components. It is also used in the production of truck trailers.
Sheet metal work: It is a popular material for sheet metal work, including for the production of building facades, roofing, and gutters.
Cooking utensils: Commonly used in the manufacture of cooking utensils due to its good formability and corrosion resistance.
Electronics: Used in the production of electronic components, including heat sinks and casings.
Chemical processing: 5052 aluminum alloy is used in the production of chemical processing equipment and storage tanks due to its corrosion resistance.
Packaging: Used in the production of food and beverage packaging, including cans, bottle caps, and foil.
Signage and display: Commonly used for signage and display applications due to its good formability and corrosion resistance.

5052 Aluminium Alloy Features
Corrosion resistance: Good resistance to corrosion, particularly in saltwater and marine environments. This makes it a popular choice for boat building and other marine applications.
Formability: The alloy has excellent formability, making it easy to shape and bend into complex shapes without cracking or breaking. This makes it ideal for use in sheet metal work.
High strength: 5052 aluminum has a high strength-to-weight ratio, which makes it suitable for applications that require strength without adding excessive weight. It has a tensile strength of around 210 MPa.
5052 Aluminium Alloy Market Analysis
The 5052 aluminum alloy market is expected to experience steady growth in the coming years due to the increasing demand for lightweight materials in various industries, such as aerospace, automotive, and construction.
On the basis of geography, the Asia-Pacific region is expected to be the largest market for 5052 aluminum alloy due to the presence of a large number of manufacturers and the growing demand for lightweight materials in various industries. North America and Europe are also expected to contribute to the growth of the 5052 aluminum alloy market, driven by the increasing demand for lightweight materials in the aerospace and automotive industries.
Specification
| | |
| --- | --- |
| Production Standard |  ASTM, B209, JIS H4000-2006,GB/T2040-2012,etc |
| Width |  50mm-2500mm or as the customer's request |
| Longth |  50mm-8000mm or  as the customer's request |
| Thickness |  0.12mm-260mm |
| Surface  |  Coated, Embossed,Brushed, polished, Anodized,etc |
| OEM service |  Perforated, Cutting special size, Doing flatness, Surface treatment,etc |
| Payterm |  Ex-work, FOB, CIF , CFR, etc |
| Payment |  T/T, L/C, Western Union, etc |
| Delivery Time |  Within 3 days for our stock size,15-20days for our production |
| Package |  Export standard package: bundled wooden box, suit for all kinds of transport, or be required |
| Sample |  Free and available |
| Quality |  Certificate of Test,JB/T9001C,ISO9001,SGS,TVE |
| Application |  Construction filed, Ships building industry, Decoration, Industry,Manufacture,Machinery and  hardware fields, etc |
FAQ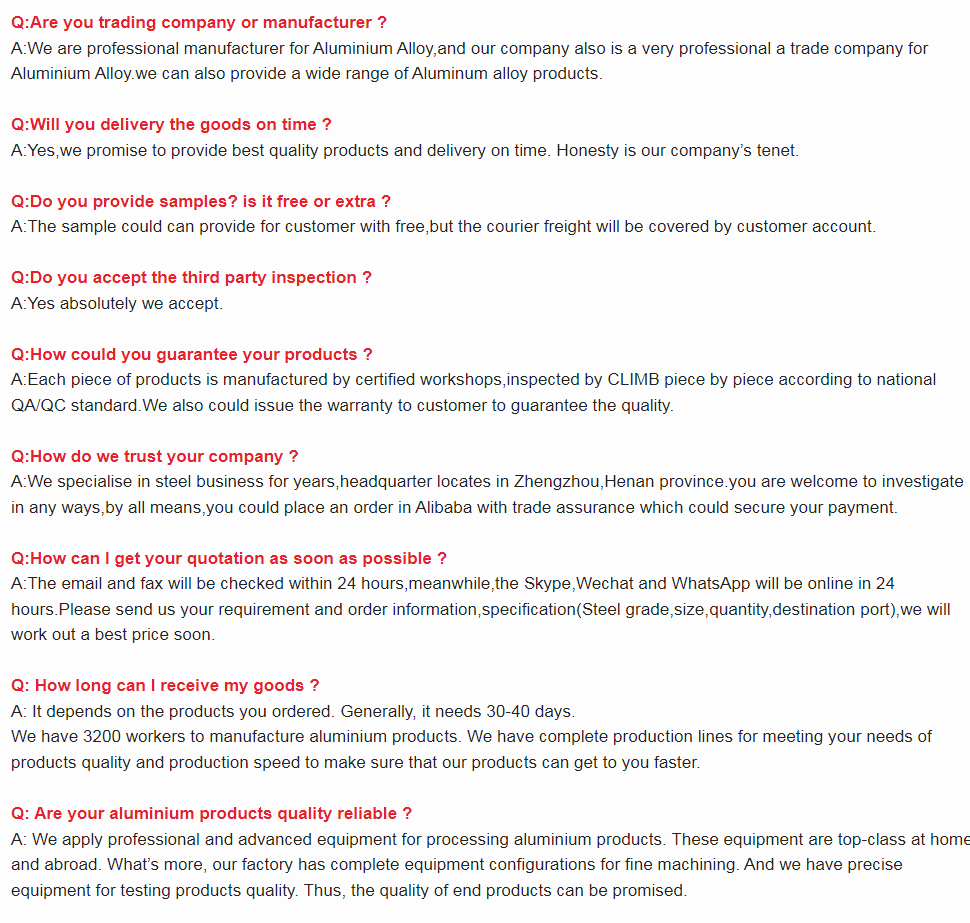 Shipping& Packaging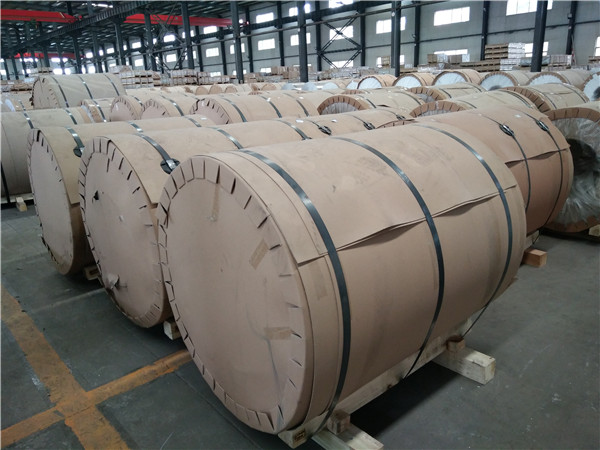 To ensure that the surface of the aluminium Coils is intact without scratches, we will clamp paper and cover film on the aluminium Coils;
The plastic or kraft paper package is used for moisture-proof and rain proof to ensure that the aluminium Coils is clean and free from dirt during transportation;
We add wooden support and reinforce with steel belt to avoid collision during transportation and ensure the shape of aluminium Coils is unchanged;
Export products are all packaged in wooden cases and brackets marked with fumigation;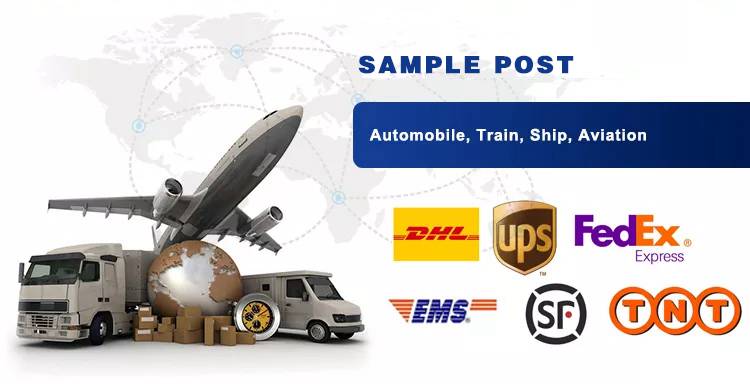 Before-sale service
We have full stock and can deliver within short time.
OEM and ODM order are accepted, Any kind of logo printing or design are available.
Good Quality + Factory Price + Quick Response + Reliable Service, is what we are trying best to offer you.
All of our products are produced by our professional workman and we have our high-work-effect foreign trade team, you can totally believe our service.
After choose
We will count cheapest shipping cost and make invoice to you at once.
Check quality again, then send out to you at 5-7 working day after your payment.
Email you the tracking no, and help to chase the parcels until it arrive you.
After-sale service
If you have any question, please contact us freely by E-mail or Telephone.
We will reply you within 24 hours and solve your problem asap.

Hi, I'm Bella. I believe you have seen many websites of aluminum merchants, but you haven't chosen yet. I sincerely suggest that you choose to purchase our products. Not only because I work here.
We are different from ordinary trading companies but a professional aluminum plate manufacturer with a production base. You are welcome to visit at any time! And we are a caring team, I believe that cooperation with us will make you satisfied!
Email: sales@aluminium-sheets.com
Mobile/WhatsApp: +86 17719845538
Leave Your Requirement on Climb aluminum alloy products! We Will Reply You In 12 Hours!